How Long Does an Oil Change Take?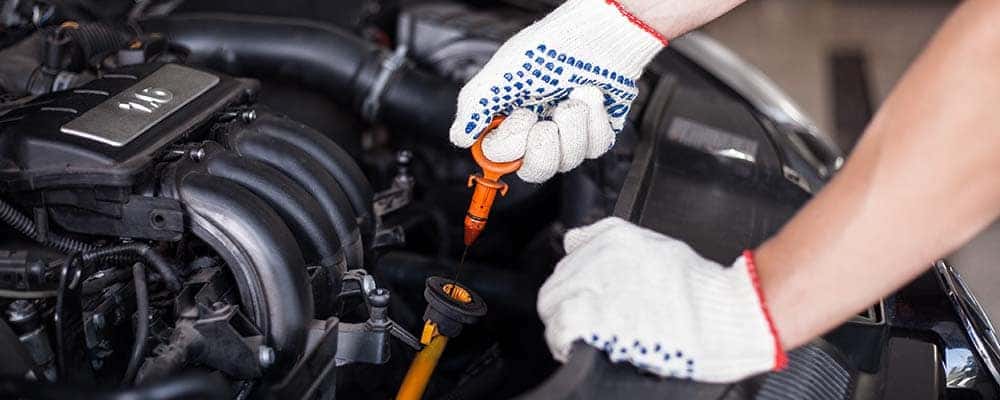 The average oil change at Perillo BMW takes less than an hour, but if you're in a hurry, you can contact our team to see what the wait times are like right now. When you know that BMW oil change is coming due, you can also schedule it ahead of time so we can know you're coming — that way we can put you back on the street on on your way even faster.
How Long Should an Oil Change Take If I Do It Myself?
If you've changed your oil before and are changing it yourself, you shouldn't expect it to take much longer than an hour. You'll want to make sure you have the materials you need ahead of time, though, including:
New Oil
New Oil Filter
New Oil Filter Gasket
Rubber Mallet
Wrenches and Jack
Wheel Blocks
We understand the appeal of a DIY oil change, but it's usually more affordable to visit the Perillo BMW service center — it takes less time, too.
Oil Change Information You Should Know
If it's time to get an oil change, turning to the Perillo BMW service center brings benefits.
An experienced service team that uses state-of-the-art equipment — especially useful when you're driving a precision-engineered car like a BMW.
Conventional wisdom used to say you would need an oil change every 3,000 miles, but when you have seasoned professionals working on a modern vehicle, you can actually go much longer between oil changes — even up to 10,000 miles. Check your owner's manual for a specific oil change interval.
Our service specials page frequently offers oil change coupons and other discounted services.
Choice of synthetic or conventional oil — just remember to always use what your manual recommends.
BMW Fast Service at Perillo BMW
BMW Fast Service ensures you're out in under an hour or less for routine services that include:
Oil Service
Air Filter and Microfilter Check and Replacement
Front and Rear Brake Pad Change
Halogen Light Bulb Replacement (Non-Xenon, Non-Laser)
Individual Tire Replacement
Wiper Blade Replacement
Brake Fluid Flush
Visit Perillo BMW in Chicago for a Quick Oil Change!
We're proud to be the BMW service center for drivers from Chicago to Park Ridge and beyond, and it takes one trip to our Fast Service lane to see why drivers from the suburbs and city choose Perillo BMW. Whether you're due for an oil change or need to have a noise checked out, you're probably due for service.
Contact us if you have any questions or schedule your service appointment online so we can know when to expect you. And remember, your BMW warning lights are warnings — you should be coming in for service before they even turn on.
Service Specials at Perillo BMW
4 Cylinder: $99.00
6 Cylinder: $119.00
8 Cylinder: $139.00
For more details please call 312-981-5200
*Excludes Diesel and M Models
Perillo BMW
1035 N Clark Street, Chicago, IL
Service: (312) 981-5200
Oil Change Prices
Expires:
4 Cylinder: $99.00
6 Cylinder: $119.00
8 Cylinder: $139.00
For more details please call 312-981-5200
*Excludes Diesel and M Models
Perillo BMW
1035 N Clark Street, Chicago, IL
Service: (312) 981-5200
BMW Value Service Oil Change
Expires:
More Service Tips From Perillo BMW
You're driving a precision-tuned luxury sedan or SUV and discover a puddle underneath it a few minutes after you've parked. You keep up with your service appointments; how could such a thing happen? Is it a BMW water leak under car or something else? First: Don't worry. If your car is leaking water, that's actually…

How to wash a car seems like it should be easy, but there are a few things that could go wrong and damage your vehicle if you aren't careful. You still want to turn heads around Chicago in your BMW, and knowing how to wash a car right will help with that. We're taking a…

You can't talk with your car and ask if it's feeling okay; that's why it has dashboard warning lights to talk with you. When your BMW dash warning lights come on, it's a sign that you should visit a Chicago or Park Ridge BMW service center — even if it seems like a minor issue. We…