How to Wash a Car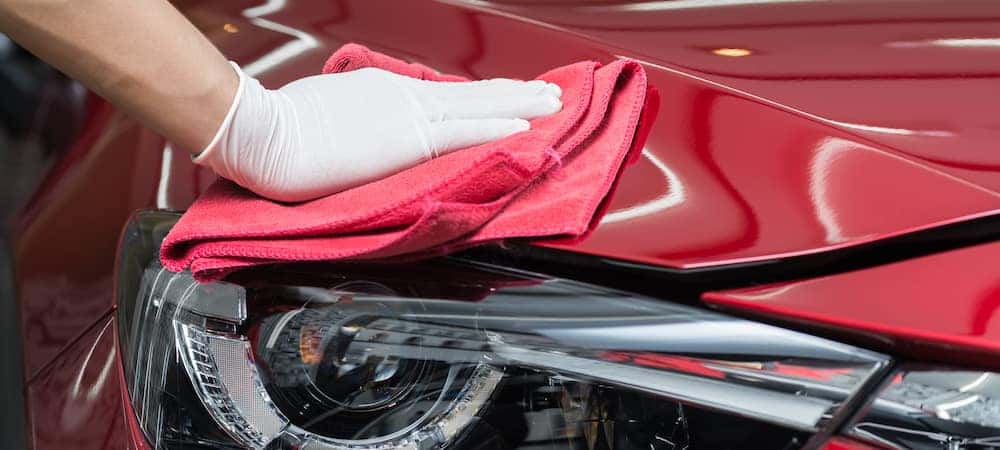 How to wash a car seems like it should be easy, but there are a few things that could go wrong and damage your vehicle if you aren't careful. You still want to turn heads around Chicago in your BMW, and knowing how to wash a car right will help with that. We're taking a look at what car washing techniques you should use on a regular basis to keep your BMW looking shiny and new. We also have tips for sanitizing your vehicle.
Steps to Wash a Car
Examine the Condition: After driving around the Oak Park area, your car may be dirty, but it's important to check the condition before starting the wash. If it's a newer vehicle, it might only need a wash and wax. If it's older, or it has more dirt and debris, it might also need to be cleaned in the smaller, hard to reach places and polished as well. The last thing you want is to start rubbing grit and grime into your vehicle finish.
Check the Labels: Before using any cleaners beyond soap and water, it's necessary to read the labels (and you should always check your soap, too). The application varies from vehicle to vehicle. It's important to know what each part of your BMW is made of, so you can buy the appropriate products. Just because tire cleaner works wonders on your tires doesn't mean it should come near your finish.
Wash the Car: Now that you have the right products, you can get to the actual car washing. First, rinse your BMW to remove larger pieces of dirt and debris. Then wash your car with cleaning product, and dry it off with microfiber towels or wash mitts. Be sure to never use dish soap or detergent, as this can damage paint and strip wax.
Wax the Car: Car wax provides a layer of protection to block UV rays and prevent paint colors from fading. It also keeps your BMW looking glossy and new. Now it's ready to be shown off on the streets of Chicago.
Car Wash Frequency
As for how often to wash a car, the general rule is thumb says to wash your vehicle approximately every two weeks. That being said, your circumstances may require more or frequency. If you don't drive your BMW every day, it may only need a wash every month or so. If you park outside, it's good to give your car a little extra TLC. If you drive around Chicago a lot, or if there's inclement weather, you may want opt for weekly washing.
Have Your Car Serviced at Perillo BMW
Knowing how to wash a car is just one of the many aspects of properly caring for your vehicle. Are you due for an oil change or a tire rotation? Then bring your vehicle in to Perillo BMW.
Perillo BMW Service Specials
Perillo BMW
1035 N Clark Street, Chicago, IL
Service: (312) 981-5200
BMW Value Service Oil Change
4 Cylinder: $99.00
6 Cylinder: $119.00
8 Cylinder: $139.00
For more details please call 312-981-5200
*Excludes Diesel and M Models
Perillo BMW
1035 N Clark Street, Chicago, IL
Service: (312) 981-5200
Oil Change Prices
4 Cylinder: $99.00
6 Cylinder: $119.00
8 Cylinder: $139.00
For more details please call 312-981-5200
*Excludes Diesel and M Models
Learn More About Service
You're driving a precision-tuned luxury sedan or SUV and discover a puddle underneath it a few minutes after you've parked. You keep up with your service appointments; how could such a thing happen? Is it a BMW water leak under car or something else? First: Don't worry. If your car is leaking water, that's actually…

How to wash a car seems like it should be easy, but there are a few things that could go wrong and damage your vehicle if you aren't careful. You still want to turn heads around Chicago in your BMW, and knowing how to wash a car right will help with that. We're taking a…

What is the purpose of all those BMW dashboard symbols? You can't talk with your car and ask if it's feeling okay; that's why it has dashboard warning lights to talk with you. When your BMW dash warning lights come on, it's a sign that you should visit a Chicago or Park Ridge BMW service center…