Parts & Accessories Specials
Tire Special Q4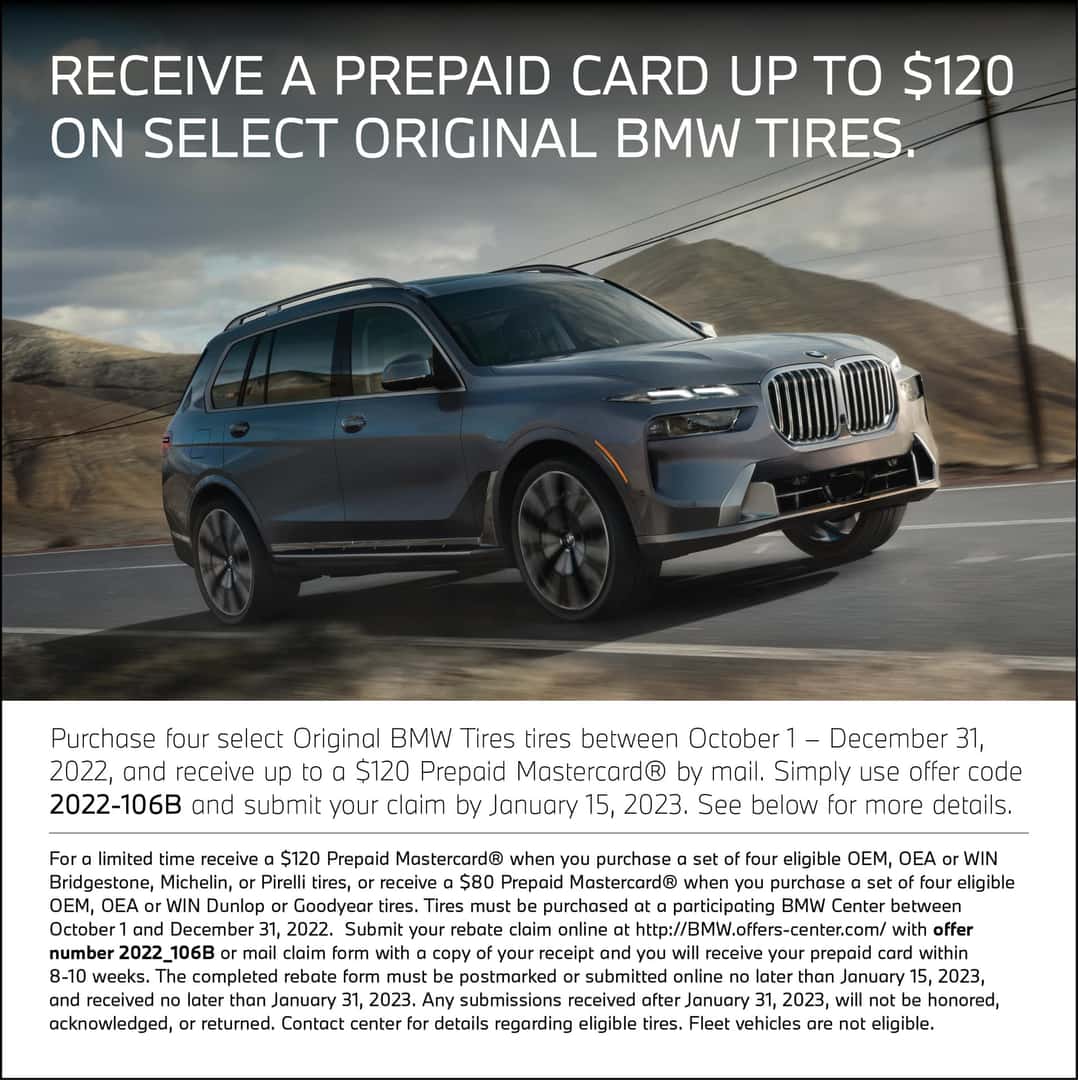 Receive a $120 card when you buy four eligible Bridgestone, Michelin, or Pirelli tires. Or, receive an $80 card when you buy four eligible Dunlop or Goodyear tires.
Submit your claim online, or mail claim form and a copy of your invoice with offer code 2022-106B to receive a Prepaid Mastercard® in the amount of $120 or $80 on valid purchases made between October 1 and December 31, 2022. Claims must be submitted within 30 days of the purchase date. Final claims must be postmarked by January 15, 2023 and received no later than January 31, 2023. Any submissions received after January 31, 2023, will not be honored, acknowledged, or returned. Invoices must clearly indicate the tire brand and part number; please circle or highlight this information. Limit one mail-in offer per qualifying purchase. Only two rebates per household. Offer available only at participating US BMW centers. Eligible part numbers set by Dealer Tire. Offer valid for US residents only. BMW or its authorized centers or tire manufacturers are not responsible for noncomplying rebate claim submissions or for electronic data submission errors, lost, late, illegible, postage-due, or undeliverable mail. Online claims will receive a confirmation of submission; please retain this confirmation. Make copies for your records. Void where taxed, restricted, or prohibited by law. All decisions made by the sponsor (or its authorized representatives) relating to the validity of any submissions are final and binding. This promotion is subject to all federal, state, and local laws and regulations. Rebate paid in the form of a Prepaid Mastercard. Card will be sent to customer's address provided above within 8–10 weeks after receipt of this completed rebate form and copy of original invoice.
Card/Virtual Card is issued by Pathward, N.A., Member FDIC, pursuant to a license by Mastercard International Incorporated. Mastercard is a registered trademark, and the circles design is a trademark of Mastercard International Incorporated. No cash access or recurring payments. Can be used where Debit Mastercard is accepted online, for phone/mail orders or in stores that accept mobile wallet. Card/Virtual Card valid for up to 6 months; unused funds will forfeit after the valid thru date. Terms and conditions apply.

BMW Accessory Wheels that are installed on/in the vehicle prior to the delivery to the client will carry the full New Vehicle Limited Warranty. If the installation is made by a Dealer after the retail sale of the vehicle, the accessory will carry the remainder of the New Vehicle/SAV Limited Warranty period or the limited parts warranty for two years from the date of installation, whichever is greater. Warranty repairs do not constitute an extension of the original limited warranty period for the vehicle or any parts (including accessories) thereof. ​
All tires are manufactured by third parties and are covered by the limited warranty of the specific tire manufacturer. Please see an authorized BMW dealer for information about specific tires and the tire manufacturers' limited warranty. Please see an authorized BMW dealer or the warranty information included with your new vehicle for more information. For more information about run-flat technology, please refer to your specific vehicle's Owner's Manual.
EXPIRES: 12/31/2022
Perillo BMW
1035 N Clark Street, Chicago, IL
Service: (312) 981-5200
Tire Special Q4
Expires: December 31, 2022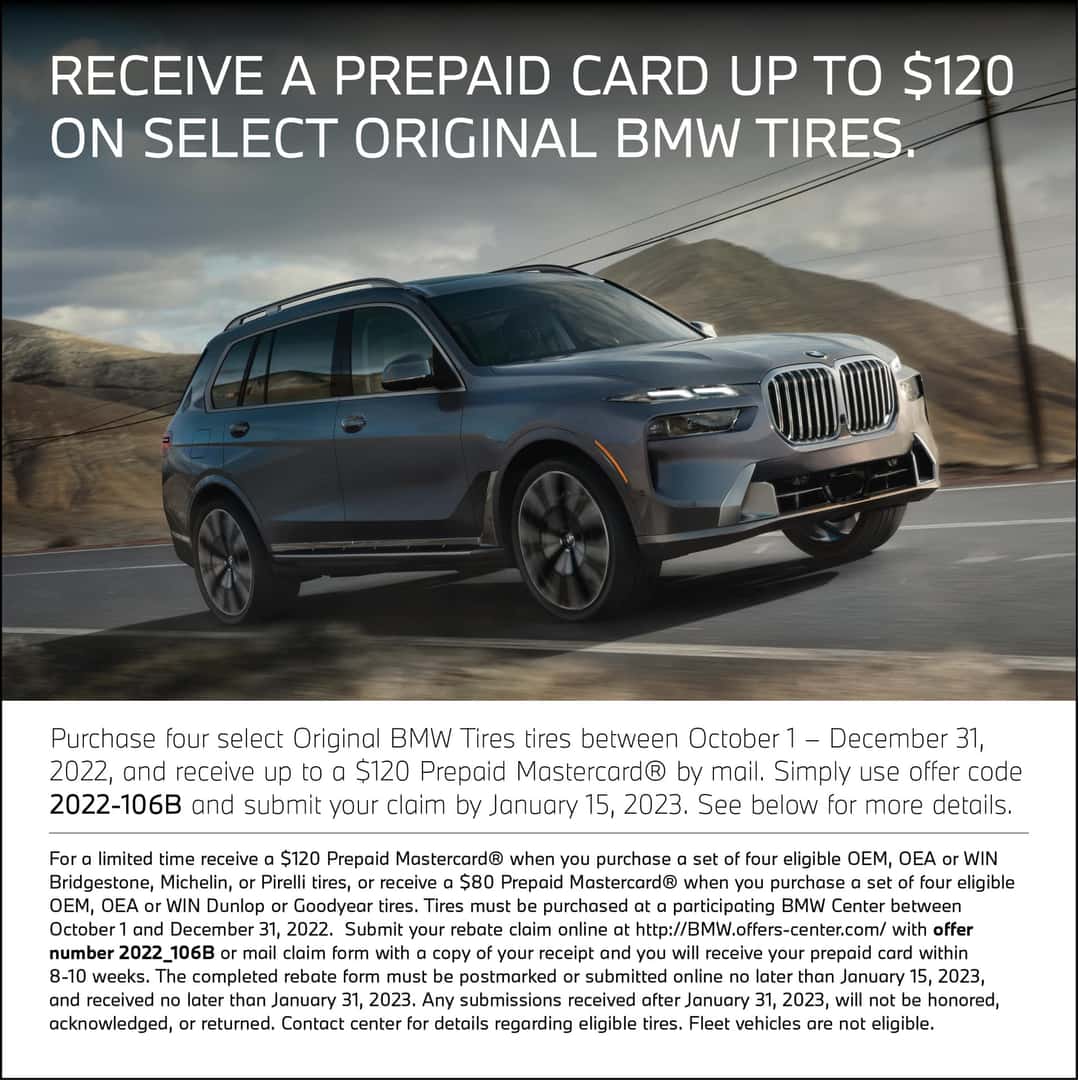 Perillo BMW
1035 N Clark Street, Chicago, IL
Service: (312) 981-5200
Bike Specials - COMING SOON!
Bike Specials are coming soon!