Why Is My Car Leaking Water?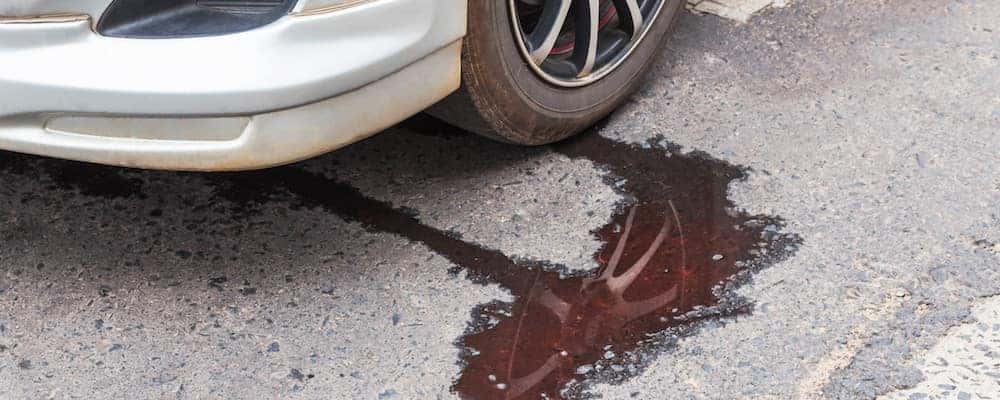 You're driving a precision-tuned luxury sedan or SUV and discover a puddle underneath it a few minutes after you've parked. You keep up with your service appointments; how could such a thing happen? Is it a BMW water leak under car or something else?
First: Don't worry. If your car is leaking water, that's actually pretty common — usually from your beloved BMW's air conditioner or exhaust.
Second: Read on to learn more about why your car may be leaking water and what to do if that puddle isn't water.
How to Identify the Cause of Water Leaking from Under Car
Is your car leaking water or something else? Here is how you can determine whether it is something simple or a transmission fluid leak when parked.
Place a sheet of paper on the ground where the leak is dripping. If the fluid is something other than water, the paper will be colored. If it's blue, yellow, or green, your vehicle might be leaking coolant.
If there's more than a small amount of water leaking from your exhaust, it could be the sign of a blown gasket, which could be causing the coolant to be burned along with fuel. This causes large amounts of water and smoke to come from the exhaust pipe.
If it's coolant, you can usually spot it by its color, but you can also check the coolant level. If it's low, you should bring your car to your local Chicago service center to have it checked.
There could also be a leak happening because of a cracked windshield wiper fluid reservoir. This can happen if you use water in your windshield wiper fluid. The water can freeze and expand, causing the plastic of the reservoir to crack. If the leaking fluid is light green or light blue and leaking by your front tires, this is likely the cause.
What Fluid Is Leaking From My BMW?
If the fluid leaking onto the paper isn't clear, it's not water. That means there's a fluid leak. If your car is leaking antifreeze when parked or you notice green fluid leaking from the car, it could be a sign that your vehicle needs service. Depending on what color it is, these are the fluids that could be leaking:
Red: Transmission Fluid or Power Steering Fluid
Orange: Transmission Fluid or Radiator Coolant
Yellow: Radiator Coolant
Green: Antifreeze from Water Pump, Hoses, or Radiator
Blue: Windshield Wiper Fluid
Pink: Power Steering Fluid or Transmission Fluid
Dark Brown: Brake Fluid or Older Engine Oil
Light Brown: Newer Engine Oil or Gear Lubricant
The Perillo BMW Service Center Can Help with Leaks
If your vehicle is leaking a fluid rather than water, you'll want to have that checked out to make sure it's not a serious problem. If you notice your car leaking water, its probably not a major concern. Contact us with car care questions like how to clean a car windshield inside, or schedule an appointment online to bring your car into the Perillo BMW service center, not too far from Park Ridge.
More from the Perillo BMW Service Center
You're driving a precision-tuned luxury sedan or SUV and discover a puddle underneath it a few minutes after you've parked. You keep up with your service appointments; how could such a thing happen? Is it a BMW water leak under car or something else? First: Don't worry. If your car is leaking water, that's actually…

How to wash a car seems like it should be easy, but there are a few things that could go wrong and damage your vehicle if you aren't careful. You still want to turn heads around Chicago in your BMW, and knowing how to wash a car right will help with that. We're taking a…

What is the purpose of all those BMW dashboard symbols? You can't talk with your car and ask if it's feeling okay; that's why it has dashboard warning lights to talk with you. When your BMW dash warning lights come on, it's a sign that you should visit a Chicago or Park Ridge BMW service center…